Do you have any unsightly stains on your carpet that need to be removed? Would you like to restore your carpet to its initial glory? If you want to make your carpet look great again, you'll need the help of a carpet cleaning company. Read on for tips that can help you hire such a company.
Companies that do carpet cleaning normally charge by the square foot. In order to make sure that you are not paying any more than you should, measure the area you plan to have cleaned ahead of time. If the figure quoted is much higher than you expected, you are probably dealing with a shady company.
There are many carpet cleaning companies popping up because of the availability of portable machines, so make sure that you hire someone that is qualified to do the job. The best way to do this is to ask for licensing information, insurance and references. This will help you hire someone that is fit for the job.
Urine stains can be hard to clean. The best way to get rid of these stains is to apply a damp and lukewarm towel on the stain to absorb the urine. Apply a urine cleaning detergent to the area before rinsing with more lukewarm water. Read the instructions on the detergent before using it.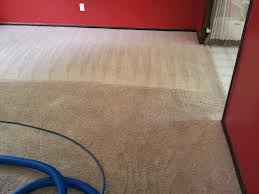 If you are thinking about having your carpets professionally cleaned, call around to a few different companies. Ask about any specials they are currently running such as multiple room discounts, or your first carpeted room free. Some companies will do one free room, in hopes that you will hire them for additional rooms.
Always make sure you vacuum a carpet before you use a machine to clean your carpet. You could end up breaking the machine if you do not, costing you quite a bit of money. Make sure you vacuum before you have professional carpet cleaners work in your home, also.
Talk to your carpet cleaner following the procedure and ask what you can do to keep your carpets in good shape. They can give you valuable advice on the day to day processes to take care of your carpet. This advice will allow you to save money on future cleanings.
You know a carpet cleaning company is reliable when their work is guaranteed. If the company doesn't have a guarantee, find another one. If you need to use the guarantee, give the professional a chance to redeem themselves. Ask for reimbursement if your carpets still aren't satisfactory.
Use vinegar and warm water as a shampoo for the carpet. This method is both effective and highly affordable. Mix equal parts vinegar and warm water, and then pour a bit onto your carpet. Then, start scrubbing with a sponge. Use warm water to rinse the fibers and use a fan to dry the carpeting.
As you can see, the status of your carpet can be greatly improved. All you have to do is enlist the services of a carpet cleaning company. This article and its tips will be useful when you prepare to have your carpet services. You'll get the best value for your money and a clean carpet in the process.
CALL US TODAY!  310-870-1847